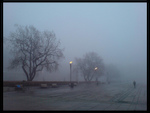 With its short days, chilly temperatures and sun-starved feel, Winter can be a bit depressing.
Whenever I catch myself feeling a bit down at this time of year I remind myself of what my friend Christophe Bichet says: « Whenever doubt gets the upper hand, or frustration and sadness take over, whenever you want to roll up in a ball — get moving ! Get outside, go running or climbing. After even a few steps, your day will be a different one ».
So, today when I'm feeling a bit down I don't roll up in a ball anymore, I put on my running shoes and go for a run.
In fact, as I write I'm just back from one and I wanted to share that with you briefly, before heading off to move a few mountains. 🙂
Christophe and his life lessons are always a source of inspiration to me, and I'm thrilled that they'll soon be published in his first book. Have a look at his « Inspir-Actions » on his facebook page, and and 'like' the page if you find them as helpful as I have. It'll motivate him to finish his book so we all have access to his wisdom and inspiration !