New York. Love that town. I start grinning pretty much as soon as my plane starts its descent into JFK, and even the ridiculous queues in immigration can't dampen my sense of excitement and anticipation.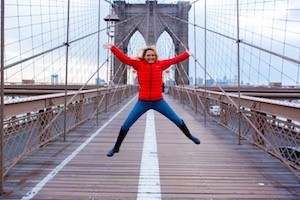 I love it so much that it became a source of embarrassment for my client last week. Each morning when I caught sight of Manhattan, I threw my arms above my head and shouted: »Goooood Moooorning New York ». I was so thrilled that it didn't really even occur to me that those with me might find that a bit embarrassing.
For the past almost 50 years, I have behaved myself. Been a good girl. And – as a good girl – there are certain things that one simply doesn't do. Arm-waving enthusiasm for instance. After all, what might people think?
In my willingness to embarrass my client each morning for a full week, I realized that I turned a page. What people thought of what I was doing was not important. I simply followed my inner voice and enjoyed where it took me. By following that voice through the course of the week, my stay in New York was an incredible success on many different levels.
And you? How are going to express your inner voice?