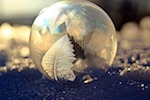 A man is walking along the street, he's happy, he smiles at passers-by.
He comes across another man with a very serious look on his face.
The first man smiles at the second who flies off the handle.
"I don't want your smile!"
And the other replies:
"Well, give it back to me then!"
Thank you for accompanying me, smiling at me and sharing your stories in 2017.
You've given me back a hundredfold what I give out in my little bubbles throughout the year.
I wish you a lovely, smiley Christmas and New Year 2018!