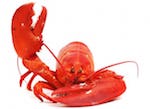 The lifestyle of a lobster has never particularly interested me, apart from wondering how it ends up on my plate. But here's what I found out during the Christmas break:
Like the rest of us, lobsters are born small and grow bigger throughout their lives. However, their shell doesn't grow with them. The poor old lobster has to shed its carapace so that it can make another.
Can you imagine the effort involved in taking off its armour? And how vulnerable the creature is when it's naked? Out of modesty, but primarily to protect itself, the lobster hides under a rock, painfully removes its shell and then waits patiently for the new one to grow before emerging clad in its brand-new, and bigger, costume.
Now imagine our lobster is a man who has no desire to suffer or be exposed to danger. He would go to the doctor's to ask for pain relief … And he would stay small and uncomfortable in clothes that no longer fit him properly.
When I heard this story, I couldn't help thinking about all those people who avoid any kind of conflict, quarrels or upheavals. What if we actually need these things to be able to move forward in life?
What upheaval do you need to go through before you can move on with your life?