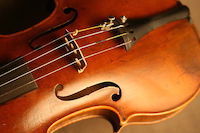 An old and damaged violin is put up for auction. The auctioneer presents it to the public and announces: "how much for this?"
"One dollar, one dollar,
Two dollars there, two dollars…
Who can top that? Three dollars…
Three dollars, going once, going twice…
Who'll have it for three dollars!
But just then a grey-haired old man came up, took the violin, dusted it off and tightened the strings. He began playing a gentle melody that clearly moved the audience.
The music gave way to silence and the auctioneer started up the bidding again:
"How much now?
A thousand dollars. Who can top that?
Two thousand, two thousand dollars.
Three thousand over here.
Three thousand, going once, three thousand, going twice. Sold!"
Applause rang out around the room but some people were wondering: "What exactly happened there? How could the value of the violin have changed so much?" At that point, someone shouted out: "It's the master's touch!"
A lot of people are damaged, out of tune, disfigured and play the wrong notes. Others judge them, they feel lost, they feel worthless in their own and others' eyes until the master touches them. Who can you touch?