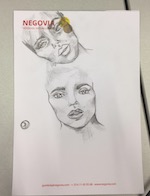 At a negotiation course in a financial institution in Germany, I saw one of the participants doodling on a notepad. Pictures began to appear as I watched her out of the corner of my eye.
During the break, I asked the participant about it. It turned out that she had managed to combine her hobby with the job she got after finishing her studies. In her daily life, she is a webmaster and customer service manager. And outside work, she draws.
It all began with an order for a mural drawing for a friend's restaurant. Then thanks to word-of-mouth, she received other orders. She didn't end up having to choose between job security and her hobby because her employer agreed that she could go part-time.
She's not yet 30 and was wise enough to go for "and" rather than "or" with the result that she is totally fulfilled in both careers.
What passion or hobby would you like to make room for so that your daily life would be that bit more fulfilling?