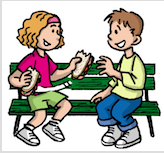 A friend who was travelling through Paris on his way home to Germany mentioned that his neighbor would be making dinner for him when he got back that evening. I congratulated him on having such a nice neighbor, and he chuckled before explaining that he had simply called her earlier in the day to say that his fridge was empty, his apartment cold, and to ask whether she would be willing to share her dinner with him!
She was only too happy to help out.
How many times have you found out after the fact that someone could have used your help, but didn't ask? How often have you said something like: «I would have picked you up!» or «why didn't you tell me?» or «why didn't you call – I would have done it with pleasure!»
In such circumstances we often feel cheated, that it's a pity that our friends don't reach out to ask for our help. On the other hand very often we don't ask for help ourselves, as we prefer not to 'bother' someone.
How about if you dared to ask? Rather than killing two birds with one stone, you might just make TWO people happy with one request.