A dear friend with a rich spiritual life says that our mission in life is to learn how to love. He says it's part of the contract while we are here. And, if we don't succeed, our soul comes back – again and again – until it learns the lesson. In short, hell.
"Why don't you say 'I love you' to the people who are dear to your heart", he challenges me. "And don't limit it to just your family!"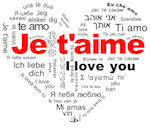 "And, when someone says 'I love you' to you, don't offer a cowardly, 'me too'! Say it back. You'll see that the energy released by these three little words is incredibly powerful. You can say 'I love you' to a lot of people, without having to marry all of them", he adds with a smile.
His challenge made me curious, so I started with a few people who already know that I am a little bit nuts. I tried a variety of different ways: face-to-face, by text message, and by email. The results have been absolutely incredible. Everyone I reached out to was touched by my offering, and without exception they reciprocated with warmth and enthusiasm.
Give it a try and see what happens. Don't do a bulk mailing to all of your contacts, of course; start with people you sincerely care about and see how it goes. I'd love to hear about your experience, whatever happens!