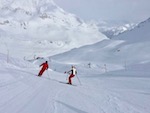 It had been at least thirty years since I last skied with an instructor. I made the very most of his knowledge of the ski resort, his well-chosen descents and his expert advice.
I let myself be guided by an expert, a master of his trade, and it did me good to switch off for a few hours and not have to make any decisions, leaving me free to trust in a person who knows what he's doing.
Following a master like that made me want to repeat the experience in other areas of my life: trust someone, follow them, discover something and just enjoy doing something with a person who knows what they're doing. Rather than wanting at all costs to do everything myself. Most of all, not asking for help… does all this sound familiar?
What about you? In what particular area of your life would you like to put yourself in the hands of an expert?