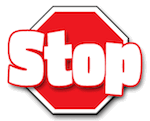 I have a strategy for when I get freaked out by my life. Whenever I get completely and utterly overwhelmed and am drowning in meetings, emails and way too many to-dos, I stop. I don't do any of it. The things that have me panicking, I don't touch.
Instead, I tidy up, make piles, file things where they belong, clean, and generally arrange things.
As a result I then have an overview of all the things that were freaking me out, and – as I no longer have my face planted in a tree that hides the rest of the forest – I can make an intelligent decision of what should be my next move.
I thought it was just me, but it seems that I am not the only one doing this kind of thing – and feeling the benefit of it.
Incidentally, it is exactly what we do when we go on vacation or when we go to bed. We take a step back in order to get back efficiently to work.
There are so many ways to make a « stop » for a better « go ». And you? What is your strategy?