---

Your hamster
29

May 2020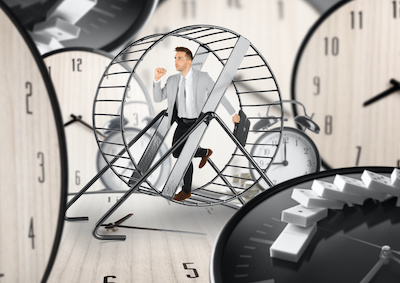 Nathalie shared her hamster story during a Facebook live stream: sitting at her desk, concentrating hard, she is thinking of names for the various sections of a training course, but nothing inspires her. She perseveres. Her mental hamster wheel is overheating with exhortations: "I've got to find something! Come on! This is ridiculous! It should be so easy!"
Her wheel continues to squeak round even when she's on the phone, leading to scribbles on scraps of paper and a certain loss of active listening.
She goes to bed, more than a little frustrated. The next day, sitting comfortably at her desk, she opens the file and BOOM! The section headings spring to mind.
We all know when our hamster wheel is turning, we can't hear what our intuition is trying to tell us. Some people go off and do some sport, others meditate, do some cooking or have a nap. All these activities serve the same purpose: they calm down the hamster and make room for your intuition. Or to use Nathalie's words: to download the answer to your question!
What about you? How do you deal with your hamster?