---

Talk! We're listening to you.
06

Apr 2020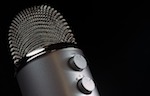 "If only the walls could talk!"  said the beauty therapist at a meeting of small business owners. "You can't begin to imagine all the things my customers tell me."
I smile to myself because it's the same with my Italian teacher. She asks me what I did last week, what I'm doing this week and what I'm going to be doing in the future. This gets me practising the three verb tenses and, if there's been some kind of misunderstanding and I regret not having done something, the conditional puts in an appearance too!
Sometimes, I think of her as my own personal psychologist (expresso style, of course!)
When it comes down to it, psychologists, coaches, beauty therapists and Italian teachers are just trying to get us to talk. None of them has the solution to our problems. That's for us to find. But saying something aloud shines a different light on a situation. It's not what someone else says that makes us progress, it's taking the time to listen to our own voice.
A personal psychologist who knows how to listen without providing a solution or giving their opinion is a rare beast. If you have one, you know it.
Tell them how much they mean to you. They'll like that. And I'd like to say to Laura, sei la migliore! (you're the best!)