---

The story within you
06

Apr 2020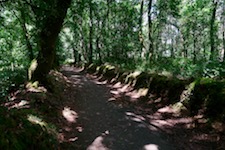 I nearly always adopt the same approach when I am writing a bubble of happiness. I look for an idea, find an angle for it and start to write.

This summer I did it the other way round. I sat down every evening to write a chapter for a story that came to me as I went along.I didn't know in the morning what I would be writing in the evening and what was going to happen to my characters.

Sitting at my keyboard, I would observe the images that came into my head and describe them.

On some occasions really bizarre ideas sprang to mind. On others, I was laughing to myself. I wondered where all these ideas originated – they seemed to come out of nowhere.

That fount of stories, that only needed letting out, had always been there. Untapped. Bubbling with all sorts of sounds. This summer I drank from this source for the first time.

What about you? Do you take the time to listen to the stories hidden deep within you? What inspiration lies within you that is just waiting to be nurtured?