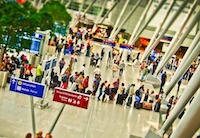 Whenever I go through an airport, I sometimes find myself hoping I'll bump into someone I know. I look around to see if I know anyone but always in vain.
On the contrary, whenever I'm involved in my usual occupations, completely absorbed in whatever it is, I often bump into people I know in the most unexpected places.
A girlfriend of mine told me that she has never found a partner when she was actually looking for one. But every time she gave up looking, love came knocking at her door.
The act of letting go makes us more fulfilled in the everyday tasks we do.
What do you need to do today, in all conscience, so that what you wished had happened yesterday will happen tomorrow without you even thinking about it?